The capital in the middle of Europe
Warsaw – the capital of Poland. This amazing city is full of contrasts, question marks and surprises. It will excite and inspire you.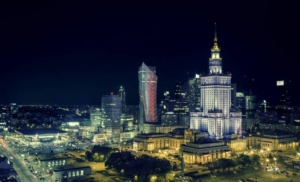 Warsaw will not leave you indifferent – reflection and euphoria simultaneously spring to mind. It is a source of amusement caused by its uniqueness and unprecedented blending of ancient and present times.
Warsaw is a city with the enchanted soul in locations that don't exist anymore, and the ambiance produced by fantastic combination of modern urban development and historical architecture.
Palaces, churches and architectural clusters are interwoven with the wide open space of squares, parks and city gardens. Substantial portion of undeveloped land, with the essential need for investment, awaits the investors. These areas will play a major role in defining the character and ambience of the city in the upcoming years.
Character – the most renowned virtue of Warsaw, bestowed on it by its citizens. Same people, who in the past lifted this city up from the ruins, today are making their dreams come true, by pursuing their professional and personal success.
What does the city look like, which for a half of a century was denied the right to be called European, despite its central European location? What is Warsaw like? – The capital of Poland, which for 123 years disappeared from the world map. What would one be able to find in the city, which was restored and brought back to life, after it was completely destroyed during WWII? Who are the citizens, which from generation to generation passed on the ideals of freedom, sovereignty and self-reliance?
The few details about Warsaw
Warsaw covers an area of 517.24 square kilometers (199.96 square miles)
It has a population of 1.7 million
8,3 million tourists visited Warsaw in 2014 (2,8 million were foreign tourists)
83 hotels
54 youth hostels
35 900 beds
63 museums
79 parks
28 cinemas
56 theaters and musical establishments
25 tram lines
251 bus lines
4 lines of SKM (Urban Rapid Rail)
2 metro lines
446 km of bike trails
2 international airports (WAW and WMI)